Neuruppin, Berlin, January 9.1.2023, 9, 45:XNUMX a.m – Supporters of the Last Generation presented the Neuruppin public prosecutor's office this morning a petition in which over 1700 people confess to being part of the Last Generation.
After some of the PCK's Brandenburg pipelines were shut down in the summer of 2022, the public prosecutor's office investigated the Last Generation on suspicion of forming a criminal organization and carried out nationwide house searches under this pretext.
Mirjam Herrmann In October, he threw mashed potatoes onto Monet's "The Grain Stacks," which was protected by a glass pane, to interrupt the powerless everyday life that is steering us towards climate catastrophe. Today she presents the petition with hundreds of signatures to the public prosecutor's office and turns herself in on site.
"We cannot allow the government to continue to close its eyes to the incomprehensible destruction caused by its decisions and are therefore offering unignorable resistance. Instead of breaking out of the deadly business-as-usual approach, the government is now using all available means to silence us. What she apparently still hasn't understood is that we are fighting peacefully for our survival – how are these absurd threatening gestures supposed to intimidate us?"
In Berlin, supporters of the last generation brought car traffic to a standstill again today. They once again carried yellow crosses as a symbol of solidarity with the resistance in the village of Lützerath and made it clear: corporate interests must not be placed above the will and well-being of civil society.

Miriam Meyer has already turned off PCK pipelines and was in prison for peaceful road blockades in Munich. Today she was sitting on the Beusselstraße motorway exit.
"I cannot believe that I am being locked up for not silently accepting the destruction of our livelihoods for profit, while PCK, RWE and Co. continue to burn and bulldoze everything that comes their way unhindered. We live in a democracy! The government should act as a representative of the interests of the population, not as a stooge of fossil companies!"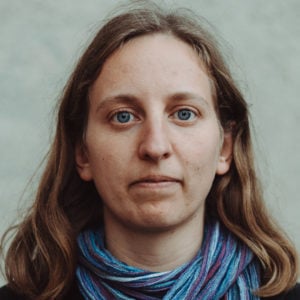 In a statement in August, RWE itself stated that one reason against preserving the village of Lützerath was otherwise "This would create motivation for further blockades". The planned demolition of Lützerath is also an attempt to prevent democratic resistance from civil society. The government is supporting this project with alarming enthusiasm.
Yesterday the police stopped a coach from Hamburg on the way to a registered, peaceful demonstration in Lützerath. The scarce 50 travelers were searched and prevented from continuing their journey for hours.
Carla Rochel, speaker of the Last Generation, asks irritably: "Are all people who dare to speak out against the destruction of our livelihoods now under general suspicion? How can it be that a constitutional state turns against the civilian population in order to protect corporate interests? Who are the real criminals here?"
Every Thursday & Sunday on Zoom!
A lecture about the climate catastrophe, the denial of reality and the possibility of taking responsibility at this unique time in human history. The first step to take action!

Are you convinced that everything has to change? Are you fed up with the ignorance and laziness of those in power? We are ready to give everything. You can support us in doing this with your donation.