Frankfurt 11.04.2022, 10 Uhr – Nachdem Menschen der "Letzten Generation" weiterhin den Verkehr auf der A648 zum Erliegen bringen, stellen sie sich auch auf der A66 Menschen dem fossilen Wahnsinn in den Weg. Sie verursachen damit zur Zeit kilometerlange Staus auf den beiden Stadtautobahnen. Damit bringen sie die zwei großen westlichen Verkehrsadern um Frankfurt zum Erliegen, um von der Regierung einen sofortigen Stopp aller Investitionen in und allen neuen Ausbaus von fossiler Infrastruktur zu fordern.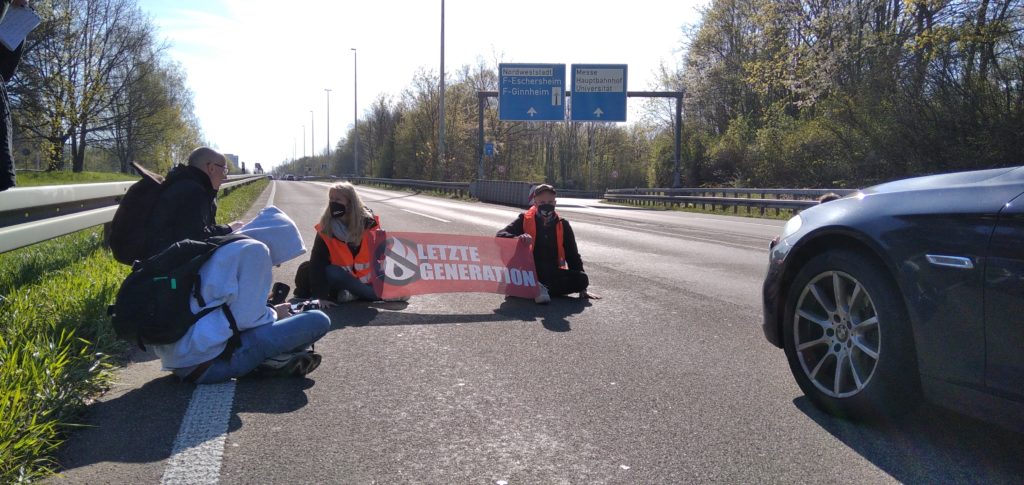 Melanie Guttmann, während sie an der A66 festgeklebt ist:

"Ich kann nicht weiter zusehen wie fossile Brennstoffe unser aller Leben zerstören. Trotzdem plant die Bundesregierung fossile Infrastruktur weiter auszubauen. Das ist fossiler Wahnsinn!
Wir müssen jetzt endlich in Erneuerbare Energien als Friedensprojekt investieren und nicht weiter das Geld in die Zerstörung unserer Gesellschaft pumpen."
Online presentations (in german)
Every Thursday and Sunday via Zoom – we are looking forward to seeing you there!
Are you convinced that everything has to change? Have you had enough of the ignorance and inertia of those in power? We are ready to give everything. With your donation you can help us to do this.