Frankfurt, 14.04.22, 12 Uhr – Bei den Blockaden heute morgen wurden erneut um die 40 Menschen der Letzten Generation festgenommen. Sie fordern von der Regierung weiterhin: "Stoppt den fossilen Wahnsinn!" und stellen sich gegen den weiteren Ausbau und die Finanzierung fossiler Infrastruktur durch die Regierung.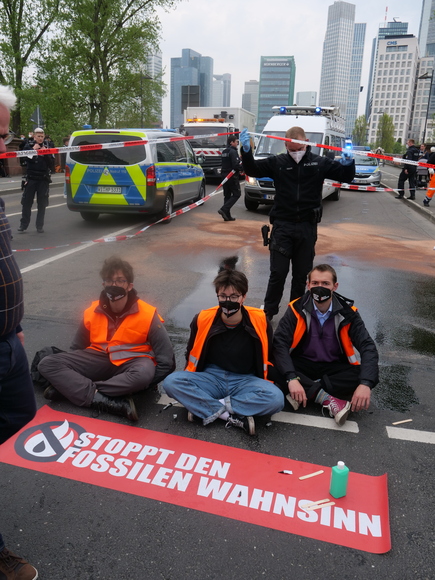 Ernst Hörmann ist 72 Jahre, Großvater von 8 Enkelkindern und ehemaliger Ingenieur. Auch er wurde heute von der Polizei festgenommen, weil er friedlich zivilen Ungehorsam leistete.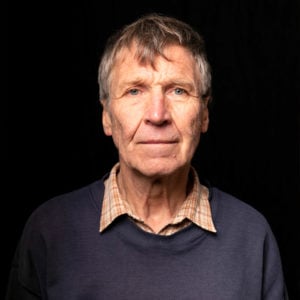 Er sagte bei seiner Verhaftung:
"Ich und meine Generation haben über unsere Verhältnisse gelebt und auf die Zukunft unserer Enkelkinder keine Rücksicht genommen. Mir ist bewusst geworden, dass wir unser fossiles Weiter-So sofort stoppen müssen, wenn wir ihnen die Chance auf eine lebenswerte Welt erhalten wollen. Wenn die Regierung ihren fossilen Wahnsinn und die Zerstörung der Lebensgrundlagen für die Generationen nach uns nicht endlich stoppt, bin ich bereit, für die Zukunft meiner Enkelkinder auch ins Gefängnis zu gehen."
Nach 150 Festnahmen in den letzten Tagen wurden heute erneut 40 Menschen der Letzten Generation bei den Blockaden verhaftet. Viele wurden in den letzten Tagen bereits mehrmals festgenommen. Die Menschen nehmen diese Massen-Festnahmen und das Ausharren in Gefängniszellen über teilweise mehrere Tage als Teil ihres entschiedenen Protests bewusst in Kauf. Teilweise wurden Menschen bereits zur sogenannten Gefahrenabwehr verhaftet, bevor sie überhaupt Straßen blockierten.
Online presentations (in german)
Every Thursday and Sunday via Zoom – we are looking forward to seeing you there!
Are you convinced that everything has to change? Have you had enough of the ignorance and inertia of those in power? We are ready to give everything. With your donation you can help us to do this.