Hamburg. After several massive disruptions in the port of Hamburg yesterday, the three young women Carla Rochel (20), Lina Eichler (19) and Katrin Hack (26) had to spend the night in a cell. At around 8 a.m. they were taken to the detention center and brought before a magistrate, whereupon they were released after almost 20 hours. They announce, justified by the climate emergency, that they will continue to disrupt until the federal government does its job and saves our food and lives.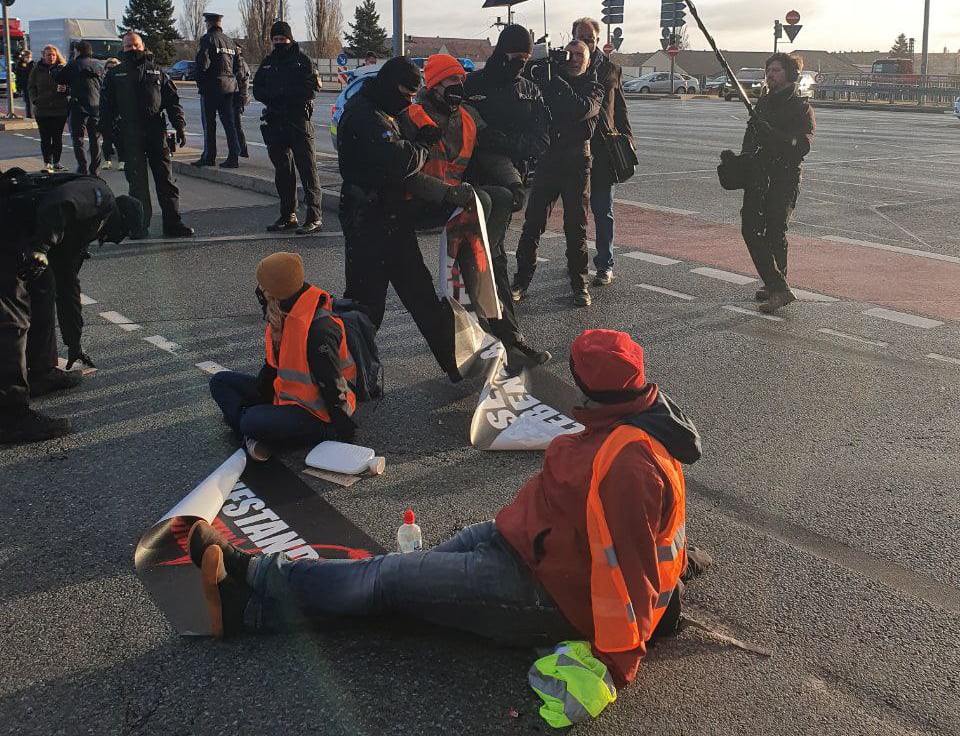 "I am prepared to bear the consequences of my actions, because the consequences of climate collapse are disproportionate. We look at droughts, extreme weather events, hunger, flight, death and wars. I have a moral obligation to do everything in my power to prevent this."says Carla Rochel, 20, after she blocked the port of Hamburg for the second time on Monday evening, shortly before her arrest.

Sending citizens to detention centers is a next step in intensifying repression, which the federal government seems to prefer to take rather than finally protect our constitution.

Meanwhile in Nuremberg: "Save food – save lives" reaches Franconia. Shortly after 9 a.m., 7 people sat down on an exit from the Frankenschnellweg; 3 of them stuck to the asphalt. 11 citizens were taken into custody by the police. The demands reach another major Bavarian city and the place where Father Alt publicly campaigned for a food-saving law a good two months ago and made headlines as a "Jesuit and thief".

While politicians have repeatedly spoken about the method of civil resistance in the past few days, representatives of the "last generation" regretted that the substantive discussion of their point of view often took a back seat. There is no scientific doubt that catastrophic consequences of global warming will also affect Germany.

The representatives of the "last generation" renewed their urgent appeal to the federal government and society: "All of us together are the last generation that can avert the worst consequences of the climate crisis. Giving up is not an option. The federal government, which is supposed to protect the basis of life according to Article 20a of the Basic Law, is now obliged to stand up for all citizens with laws. Therefore, we will continue to offer non-violent resistance, for ourselves and our children.said Ernst Hörmann, 72 years old, grandfather of eight.
Get your new profile picture on social media with just a few clicks.